Beebop by cloud b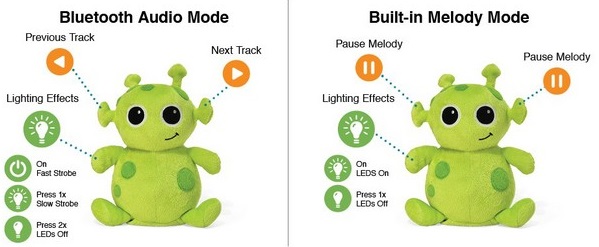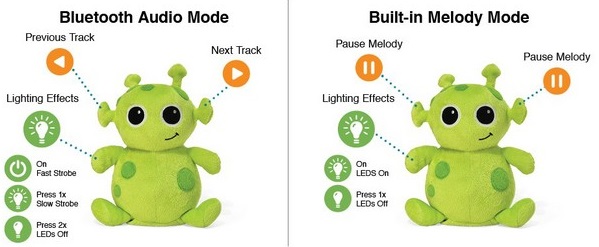 Beebop by cloud b
Cloud b's Beebop is a musical playtime pal and a soothing bedtime buddy all in one! Utilizing Bluetooth® technology, this cute and cuddly creature plays songs from personal playlists, lighting up along with the beat. As music plays, lights glow and strobe in blue, green or red to match the tempo of the tunes. When it's time to calm things down, Beebop can play your child's favorite lullabies while slowly morphing through colors, or you can turn off the light effect altogether. He's one extra special extraterrestrial!
Features
Super soft plush for the cuddliest cuddles

Multifunctional lovey helps kids transition from playtime to sleep time

Eases fear of the dark

Plays music wirelessly via Beebop's speaker

Built in melody and morphing lights can play without Bluetooth®

Fun light sequences strobe to the tempo of the music during Bluetooth® mode

Glows in three color options: blue, green and red

4 Settings: Bluetooth® music streaming with strobe effect, Bluetooth music streaming with slowly morphing colors, Bluetooth music streaming with no light effect, and default melody with morphing colors

45 minute auto shut-off when not connected to Bluetooth ensures complete darkness and silence during your child's deep sleep, as recommended by pediatricians

Fun for all ages

Easy operation so kids can effortlessly self-soothe

Quality construction for years of enjoyment
What's in the Box

Beebop

LI-on rechargeable batteries and USB cable (USB to 5.5mm Barrel Power Connector)
Multi-Sensory and Multi-FUNctional
Your child will dance away the days with Beebop and his Bluetooth music magic. Plus, his fun strobe effect is sure to keep your child enchanted – bopping and burning off energy (which leads to better sleep!). When bedtime beckons, Beebop's spellbinding sights, soothing sounds, and comforting cuddles create a multi-sensory experience that easily lulls your little one to sleep. Even better, when children wake during the night, Beebop's ready to help whisk wee ones back to dreamland independently with the push of a button! Beebop helps the whole family sleep better!
Kid-Friendly Operation
Once connected to your Bluetooth device, a gentle click on Beebop's ears easily changes tracks forward and back. Beebop's little left hand controls the light settings. He defaults to the strobe setting, but pressing once changes the lights to slowly morph, pressing twice turns off the lights entirely, and pressing three times returns him to default strobe mode. When Beebop's not in Bluetooth mode, an automatic shut-off kicks in after 45 minutes, to save battery power and to ensure complete darkness and silence during your child's deep sleep, as recommended by pediatricians.
Makes a Great Gift
Beebop is the perfect little buddy for kids of all ages. He's a perfect playmate for daytime dancing and fun, but he's also a must-have multi-tasker that helps create healthy sleep habits for better health and well-being. A plush night light, sound soother, and lovey all-in-one – it's a gift that keeps on giving day after day and night after night!