I made an Easter basket for Ben, the owner of the store. LOTS of jelly beans inside those eggs!! Happy Easter, Ben! From June, Best Employee Ever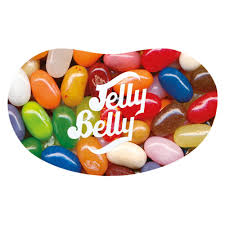 ....lots of jelly beans...
Little does he know, but he's in for a surprise....
The eggs are filled with BeanBoozled® Jelly Belly jelly beans. Have you taken the challenge? It's a tale of two beans. They look the same, but they sure taste different.
The black Licorice bean looks exactly like the Skunk Spray bean! Sweet, luscious Caramel Corn might also be Moldy Cheese. He may think he's tasting the world-famous Buttered Popcorn bean, but what he'll be biting into could actually be Rotten Egg.
Happy Easter!
and April Fool's!!